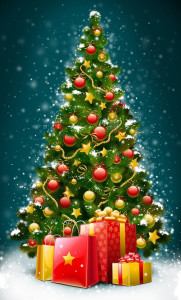 We look forward to seeing you and your family for our 35th Season in November, 2015.
Dates: November 7, 2015 through December 20, 2015
The 34th Annual Home for the Holidays celebration was a great success and featured a spectacular display of holiday lights and family-friendly activities.
The local shops and businesses came alive with the Spirit of the Season. Visitors encountered strolling performers and festive exhibits. The shops and boutiques offered a variety of local unique holiday gift ideas and perfect treasures for everyone on your shopping list. Patrons strolled the decorated winding paths and enjoyed a hot chocolate or other holiday delights at one of our local restaurants.
Scheduled Entertainment
All entertainment depends on the weather.
Home for the Holidays 2015 Entertainment
Saturday, November 21, 2015
10:00 am – 2:00 pm Wells Fargo Stagecoach, Keith Street between Main and Gentry
10:00 am – 5:00 pm Be an Angel Train, Gentry Square
$3 per person benefiting Be an Angel Foundation
10:00 am – 6:00 pm Santa House and Photos, 100 Main Street
11:30 am – 12:30 pm Elsa, Thomas Kinkade at PTL Gallery
318 Main Street, #A
12:00 pm – 4:00 pm Hot Chocolate Stand and Letters to Santa
in front of OTS Tasting Room
206 Main Street
12:00 pm Heaven Sent Choir
12:30 pm – 1:30 pm Minion at Ellen's Café
307 Gentry Street
1:00 pm Yellow Rose Clogging Team
2:00 pm Navasota High School
3:00 pm Michael David Lindsey
4:30 pm – 5:30 pm Elsa at Doering Court
211Midway Street
5:00 pm Tree Lighting Ceremony at The Little Dutch Girl
210 Gentry Street
Emily Cole, singer
Ashley Taylor, US Army, retired, speaker
Tree Lighting at dusk
Sunday, November 22, 2015
12:00 pm – 5:00 pm Be an Angel Train, Gentry Square
$3 per person benefiting Be an Angel Foundation
12:00 pm – 5:00 pm Santa House and Photos, 100 Main Street
2:00 pm – 4:00 pm Emily Cole
Friday, November 27, 2015
12:00 pm – 5:00 pm Be an Angel Train, Gentry Square
$3 per person benefiting Be an angel Foundation
10:00 am – 6:00 pm Santa's Workshop and Photos, 100 Main Street
12:00 pm – 5:00 pm David Wonder, magic show and balloon man
Keith Street and strolling
Saturday, November 28, 2015
All Day Small Business Saturday, support our small businesses
9:00 am – 10:00 am Breakfast with Santa, Ellen's Café, $6 per person
307 Gentry Street
12:00 pm – 5:00 pm Be an Angel Train, Gentry Square
$3 per person benefiting Be an angel Foundation
10:00 am – 6:00 pm Santa's Workshop and Photos, 100 Main Street
12:00 pm – 4:00 pm Hot Cocoa Bar and Letters to Santa
In front of Sedona Joe's
311 Main Street #A
12:00 pm – 5:00 pm David Wonders, magic show and balloon man
Keith Street and strolling
2:00 pm The Doucettes, Keith StreetSunday, November 29, 2015
12:00 pm – 5:00 pm Be an Angel Train, Gentry Square
$3 per person benefiting Be an angel Foundation
12:00 pm – 5:00 pm Santa's Workshop and Photos, 100 Main Street
12:00 pm – 5:00 pm David Wonders, magic show and balloon man
Keith Street and strolling
Saturday, December 5, 2015
10:00 am – 12:00 pm Baking Contest, Why Not Envy Me? Front porch 10:30 am Check-in 12:00 pm Judging of categories: Cookies, bars and brownies; Cakes and pies; Candy and other treats 1:00 pm Announcements of winners
10:00 am – 2:00 pm Wells Fargo Stagecoach, Keith Street between Main and Gentry streets
10:00 am – 6:00 pm Santa House and Photos, 100 Main Street
11:00 am – 1:00 pm Minion at Kate Turner on Noble Street
11:00 am Eiland Dolphin Dynamics, Keith Street
12:00 pm – 5:00 pm Be an Angel Train, Gentry Square
$3 per person benefiting Be an Angel Foundation
12:00 pm Benigus Elementary Choir, Keith Street
12:00 pm – 4:00 pm Hot Cocoa Bar and Letters to Santa
In front of CR Collectibles, 218 Main Street #A
1:00 pm Northampton Colt Chorale, Keith Street
9:30 am Drop-off of goodies starts 1:00 pm – 4:00 pm Cookie Walk, Venue at 200 Main sell cookies to public for $5 per pound; cakes and pies sold whole
1:30 pm – 2:30 pm Minion at The Little Dutch Girl
210 Gentry Street
2:00 pm Andrea Cannon Guitar Arts Studio, Keith Street
2:30 pm – 3:30 pm Elsa at Doering Court
211 Midway Street
3:00 pm The Dance Studio, Keith Street
Sunday, December 6, 2015
12:00 pm – 5:00 pm Be an Angel Train, Gentry Square
$3 per person benefiting Be an Angel Foundation
12:00 pm – 5:00 pm Santa House and photos, 100 Main Street
2:00 pm Yellow Rose Clogging Team, Keith Street
Saturday, December 12, 2015
10:00 am – 6:00 pm Santa House and Photos, 100 Main Street
11:00 am Starbound Dance Troop, Keith Street
12:00 pm Houston Area Suzuki Strings, Keith Street
12:00 pm – 5:00 pm Be an Angel Train, Gentry Square
$3 per person benefiting Be an Angel Foundation
12:00 pm – 4:00 pm Hot Cocoa Bar and Letters to Santa
In front of German Gift House, 210-B Gentry Street
1:00 pm Ugly Sweater Contest, Why Not Envy Me?
1:00 pm Red Satin Dance, Keith Street
2:00 pm CYT, Keith Street
3:00 pm Vogel Intermediate Choir, Keith Street
Sunday, December 13, 2015
12:00 pm – 5:00 pm Be an Angel Train, Gentry Square
$3 per person benefiting Be an Angel Foundation
12:00 pm – 5:00 pm Santa House and photos, 100 Main Street
2:00 pm Cypress Elite Dance Studio Academy, Keith Street
3:00 pm Living Lines Dance Center, Keith Street
3:00 pm Evidence Choir, Why Not Envy Me?
Saturday, December 19, 2015
10:00 am – 6:00 pm Santa House and Photos, 100 Main Street
12:00 pm – 3:00 pm Emily Cole and Campfire Soul, Keith Street
12:00 pm – 4:00 pm Marine Moms, Keith Street
12:00 pm – 4:00 pm Hot Cocoa Bar and Letters to Santa
In front of OTS Tasting Room, 206 Main Street
12:00 pm – 5:00 pm Be an Angel Train, Gentry Square
$3 per person benefiting Be an Angel Foundation
Sunday, December 20, 2015
12:00 pm – 1:00 pm Emily Cole and Serena Scasny, Keith Street
12:00 pm – 4:00 pm Marine Moms, Keith Street
12:00 pm – 5:00 pm Be an Angel Train, Gentry Square
$3 per person benefiting Be an Angel Foundation
12:00 pm – 5:00 pm Santa House and photos, 100 Main Street